HSE have announced that there is a renewed focus on Welding and weld fume and on Oil Mist.
For welding fume including mild steel welding regardless of duration, HSE will no longer accept any welding undertaken without any suitable exposure control measures in place, as there is no known level of safe exposure.
Your weld fume should ideally be captured at source using the correct weld fume local exhaust ventilation.
Compliance LEV can supply various types of Mobile Weld Fume LEV,  including Wall Hung Weld Fume LEV, Centralised Weld Fume LEV, Downdraught Bench etc., to cope with grinding and dressing dust.
Contact Compliance LEV Ltd or free help, advice and quotation to ensure you stay fully compliant with HSG 258 for your welding fume systems.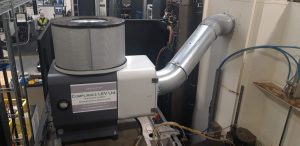 With regard to Oil Mist or metal working fluids Compliance LEV have supplied and installed various types of Oil Mist LEV across all of the UK from the Highlands of Scotland and through all England's counties.
In all aspects of machining metal working fluids or oil mist are high on the HSE control agenda because of the aerosol and the vapour they create.
If you have an issue with oil mist, if you need statutory LEV testing also known as TExT or if you need oil mist unit servicing, oil mist filters or complete new Oil Mist Systems, please contact LEV for free help advice and quotation to ensure you stay fully Compliant with HSG 258 for your Oil Mist Systems