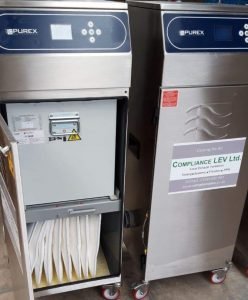 A new client approached us with a problem…
They had a PVC lasering process and their extraction was insufficiently designed and supplied by another company who had failed to realise the corrosive nature of the fume caused during the laser process.
When lasering PVC, a very corrosive chlorine gas is emitted, damaging the LEV almost over night!
Compliance LEV helped by specifying a special stainless-steel "epoxy coated" unit which will now stand up to the process.
Result – happy client!