Our client had a very large wet dust collector sited outdoors which pulled air from 3 booths in which titanium grinding took place.
Titanium dust is explosive hence the requirement for a wet
dust collector, where the sparkrisk is mitigated immediately as it hits the water.
As an environmentally aware company here at Compliance LEV we are always looking for ways to reduce impact on the environment, save energy and save money and running costs for our clients.
We began with a site survey and noticed right away that our client was only using a single booth 80% of the time whilst requiring to run the big external dust collector to get the single booth its required airflow… meanwhile 3 booths worth of warm condition air was being cast outside of the building!
Our solution was to decommission the large outdoor unit and replace it with 3 localized internal systems. This would mean each booth could operate individually and only run it's own dust collector.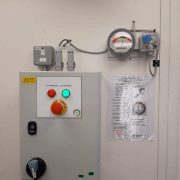 Environmental and Economic benefits of this solution:
Only run the much smaller Fan and motor as and when required, reducing environmental impact, emissions and energy costs.
The systems return their air (thanks to our bespoke after filter system) and the buildings heated and conditioned air is retained preventing heating air twice!
We removed the productions single point of failure, if one system were to become un-usable for any reason the process can now move to a neighbouring booth.
Result – client saves money, environmental impact and carbon footprint is reduced.