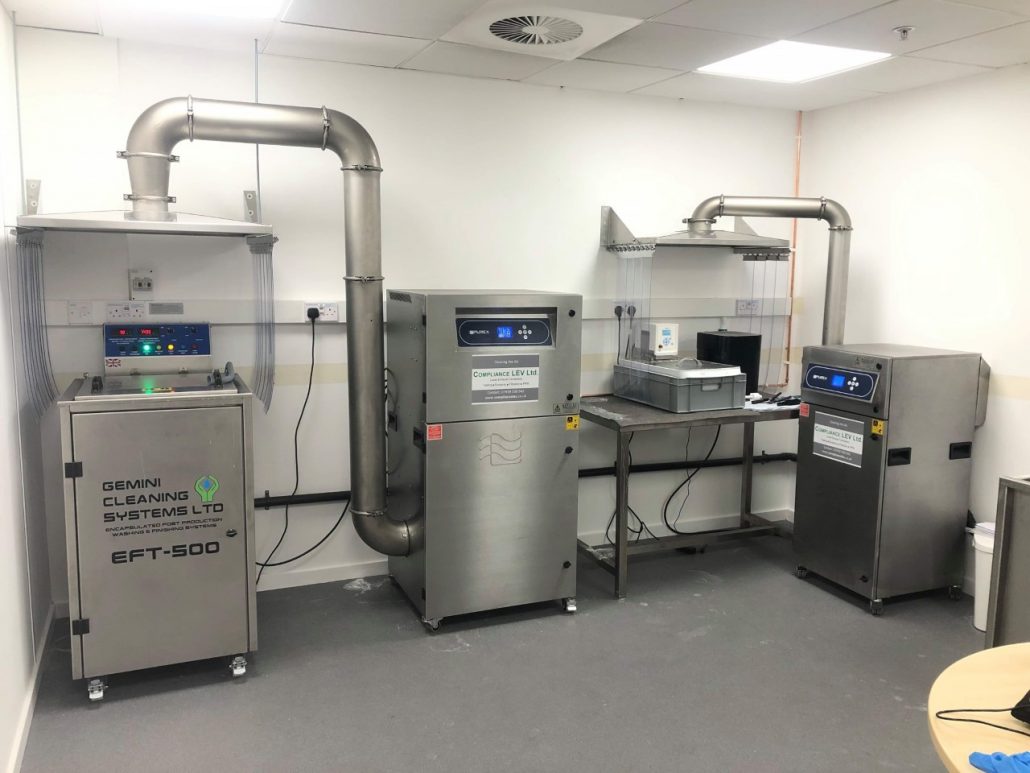 We are often approached by new clients  where the client has new equipment or processes and are not sure if LEV is required and if it is, what type.
At Compliance LEV we are always happy to talk things through with existing and new clients and even carry out a site visit if required.
COSHH (Control Of Substances Hazardous to Health) are government regulations and are criminal law. The first stage you must follow is to carry out a "suitable and sufficient risk assessment" of your process, we can help regard your LEV.  Local Exhaust Ventilation systems are classed as an "Engineering control" under COSHH.
This particular application involved small chemical cleaning tanks where the emitted fumes were minimal.
We reviewed the MSDS (Material Safety Data Sheet) for the chemicals and followed relevant guidance.
The process was taking place inside a small room with general ventilation linking various offices and rooms.
General ventilation is not suitable to carry fume as it is possible that it can carry and spread the fumes into other parts of the building exposing other staff to breathing it in.  In addition, exposure to the fume can take place before general ventilation takes place, whereas LEV captures the contaminant at source before the operator breathes it in.
Compliance LEV designed bespoke enclosing hoods using stainless steel material to resist chemical corrosion, further enclosed using rubber strip curtains.
We specified the fume collectors with activated carbon filters making the returned air clean and free from contaminant and safe to breath.
Result – a fully compliant client, who will now be confident that if HSE turn up to audit that all their legal obligations have been met, all the way from initial risk assessments to installation of suitable engineering controls.
Every installation by Compliance LEV includes a hand over and full system logbook to meet HSE guidance document HSG258.
Note – Compliance LEV can supply logbooks and create SOPs (Standard Operating Procedures) retrospectively where these are missing from existing LEV Systems, meaning  you are fully compliant.